Dec 9 - Senior Photos 4-9 pm- Sign up for a time now! in LIBRARY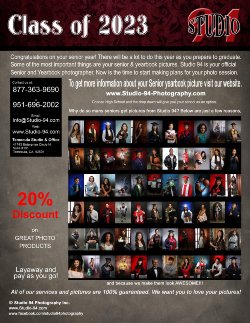 What

Dec 9 - Senior Photos 4-9 pm- Sign up for a time now! in LIBRARY

When

12/9/2022
Reminder for Senior Students - This week EHS will host the final sessions for Senior Yearbook photos (official cap and gown photos will be on campus in the spring).
December 8 from 4-9pm
December 9 from 4-9pm
December 10 from 9am-1pm
Please sign up for an appointment time at this link.
Please read here for more information.
http://www.studio-94-photography.com/high-school-sessions/escondido-high-school/ehs-class-of-2023-1/
What Happens At The Senior Yearbook Photo Session?

We invite you to dress very nice for this picture. We will only be seeing your head and shoulders so concentrate on that area. Make sure that your clothes are clean and pressed.

We will be using a professional gray to black fade style background. We recommend that you wear dark colored tops with long sleeves. We prefer solid colors as patterns tend to distract and don't forget about jewelery if it's your style.

We will take 5 pictures so that you have choices. We will give you an opportunity to make a yearbook choice following your session from those pictures. We will send digital proofs to you via email a few days after that. You will be able to see large versions of each image on your computer screen and are welcome to place your order right there online and your product purchase will be sent to you within 3 weeks.
Copy to Google Calendar
•
Download iCal Event